FOOD FROM NATURE
"WE FIRMLY BELIEVE THAT THE  BEST FOOD FOR OUR HEALTH  COMES
FROM NATURE."
Breakfast

Porridge
Toast
Muesli, cereal
Natural yogurt

Brunch

Salad
Honey vinaigrette
Smoothie
Green juice
HONEY WITH BLUEBERRY

From the deep polish forests we bring you this blue jewel.

Our Honey with Blueberry combines the best artisan honey together with flavourful wild blueberries.

Its intense and refreshing sweet flavour will be perfect for all your dishes and its color will enchant you.

HONEY WITH CRANBERRY

Don't be fooled by the delicate pink color of Cranberry Honey, our honey is a rebel!

With all the properties of real natural honey and cranberries, its bittersweet flavour will not leave you indifferent.

HONEY WITH BLACKBERRY

Have you ever seen something like purple honey before?

This delicious organic honey will surprise you with its incredible purple color and its deep flavour, full of intense
nuances.

Destined to change your breakfasts brunches, snacks and desserts
✤ Use it on top of your pancakes, crepes, biscuits

✤ Spread it on bread or toast

✤ Sweeten your yogurt

✤ Add more flavor to your muesli

✤ Enrich your porridge

✤ Create spectacular healthy smoothies
Did you know this about Honey With Berry???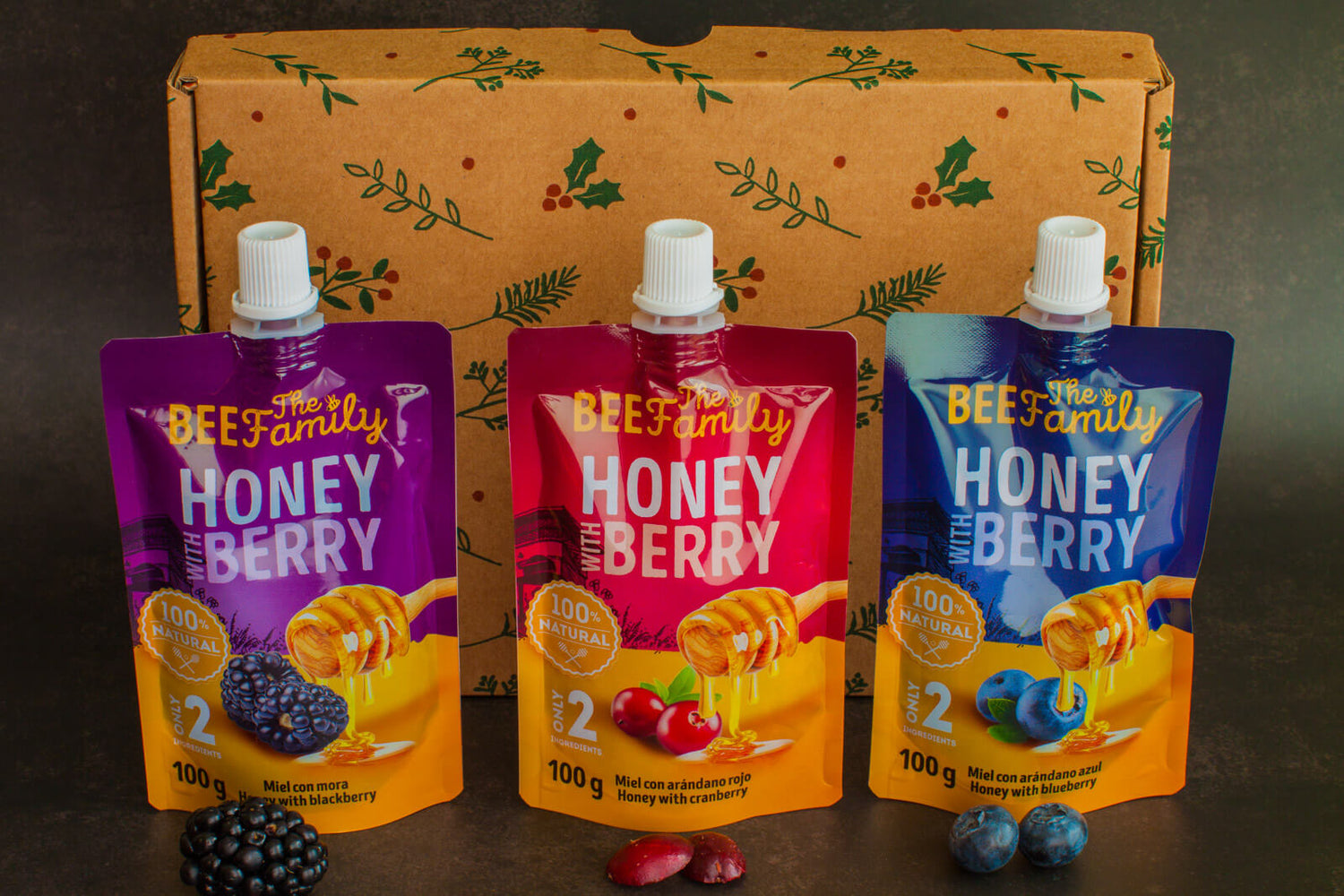 IS THE BEE FAMILY HONEY WITH BERRIES A NATURAL PRODUCT?

Of course! Both the honey and the berries used are 100% natural.
DOES HONEY WITH BERRY CONTAIN ADDED SUGAR?

The honey with which we make Honey with Berry from The Bee Family does not contain added sugars. It is as sweet as nature has made it with all its sweeteners and nutrients.
DOES HONEY WITH BERRIES CONTAIN ARTIFICIAL PRESERVATIVES?

NO. None of our products contain any artificial ingredients or preservatives, dyes, sugars, or emulsifiers... ABSOLUTELY NOTHING that does not come from 100% natural raw material.
DOES THE HONEY WITH BERRY CONTAIN GLUTEN?

No, it is a gluten-free product.
WHAT IS THE EXPIRY DATE OF HONEY?

Although honey never expires, we mark an expiration date on each container to comply with the traceability regulation of the European Union.